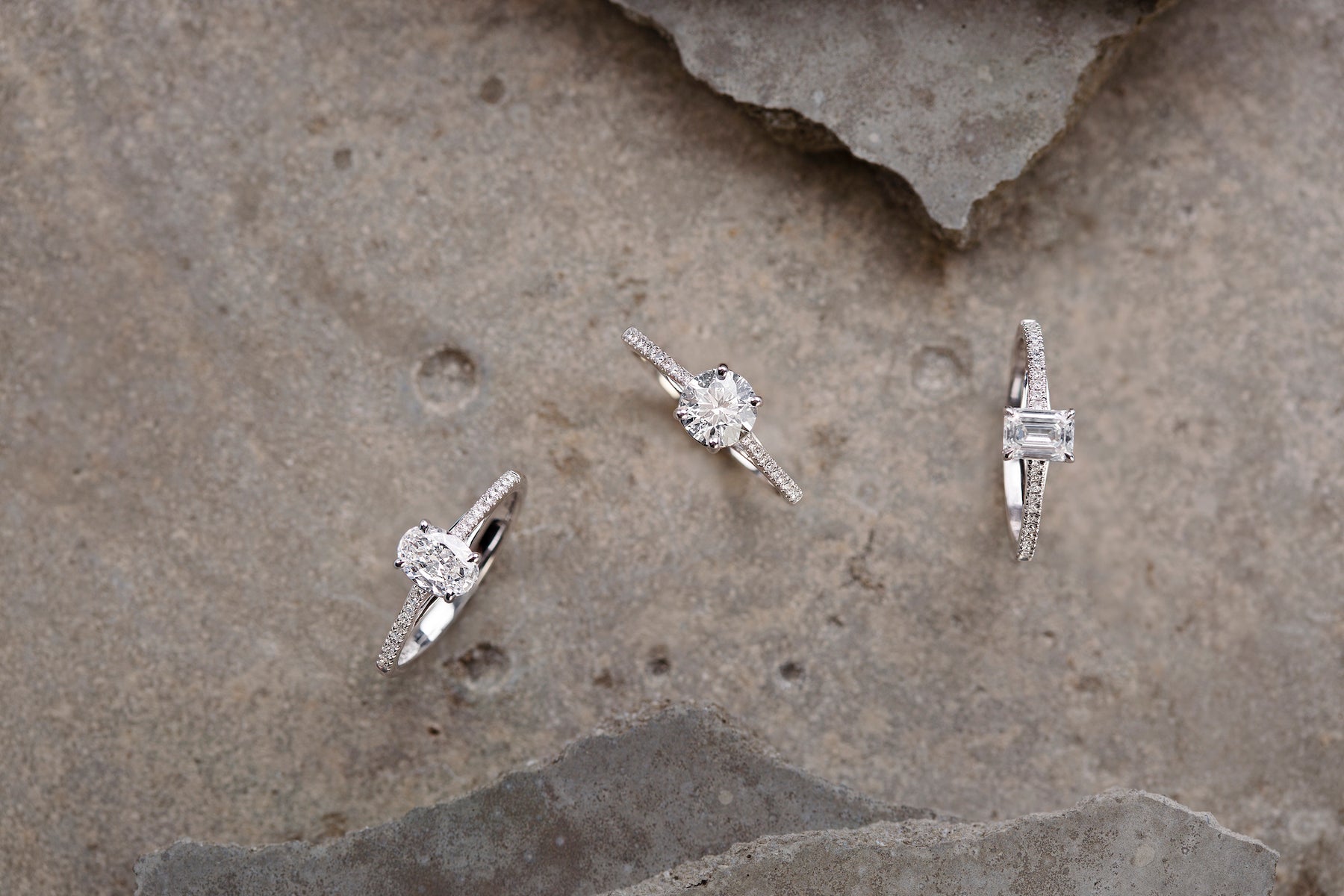 Engagement ring ideas and inspiration for 2023
Engagement rings aren't always bought by the proposer these days. It's pretty common practice for couples to shop for engagement rings together. Whether you're looking to propose and need some inspiration or are shopping together, we've got some great engagement ring ideas for 2023. 
While modern trends and styles are important, it's also worth keeping in mind that an engagement ring should last a lifetime. Trends can be fun, but the most enduring engagement ring styles have become classics because of their simplicity.
There is always space for flair and personality - and this year, we expect to see engagement ring trends led by sustainability and the changing world around us. 
Couples are opting for lab grown diamonds and gemstones, as well as choosing styles that reflect the individuality of their relationship.
Diamond solitaire rings are still the most popular style of engagement ring, and we expect them to stay on top for another year.
With the current focus on sustainability, couples are increasingly choosing to buy conflict-free, environmentally-conscious stones - including lab grown diamonds.
Other engagement ring styles rising in popularity in 2023 include

o

val cut stones, colourful gemstones and modern art deco settings.
Engagement ring ideas for 2023 – our predicted trends
From 1920s art deco designs to the growing popularity of lab grown diamonds and other ethical materials – engagement rings in 2023 are being determined by the changing world around us.
The team of buyers and designers at Created Brilliance has come together to predict the trending engagement ring styles in 2023 and give some inspiration and ideas for engagement rings:
Lab grown diamond engagement rings
The world is increasingly concerned with sustainability and protecting the planet, so it's not surprising that our top trend prediction for 2023 is a rise in ethical engagement rings.
Lab grown diamonds are as real as mined diamonds, but as well as being more affordable, they're conflict-free and less damaging to the earth – making them an ideal choice for the environmentally conscious couple.
Also, they are much more affordable than mined diamonds, meaning you can get a much bigger, better-quality diamond for your budget.
Shop lab grown diamond engagement rings.
Oval cut engagement rings
Oval cut diamond engagement rings are becoming increasingly popular, as couples are becoming more adventurous with fancy-shaped diamonds. Their elegant shape feels both modern and classic – as well as being a flattering choice that elongates the finger. 
The most popular oval engagement rings styles include solitaires, halo's and three stones – they look particularly special when paired with side stones in a different shape – such as pear or round cut diamonds.
Browse our oval cut engagement rings.
Colourful engagement rings
While white diamonds are still the most popular choice for an engagement ring, colourful engagement rings are on the rise. The variety of gemstones available means couples can choose a colour that's meaningful to them, creating a very personalised engagement ring.
"Emerald rings are topping the charts for coloured gemstones in 2023, but blue sapphires and rubies aren't far behind, with pink diamond engagement rings, and other fancy coloured diamonds also blazing a trail," says Sophie Milner, Buyer, Created Brilliance. 
Browse our lab grown gemstone engagement rings.
Vintage engagement rings
Vintage engagement rings are still going strong. Perfect for couples looking for something unique yet timeless, the modern art-deco engagement ring will continue to be very popular in 2023.
Whether it's an emerald cut diamond, exuberant halo or intricate vintage detailing, there is something to appeal to everyone's taste.
Browse our vintage style engagement rings.
Pretty engagement rings
The definition of pretty is "beautiful in a dainty way" and that's the perfect way to describe this engagement ring trend. Beautifully delicate engagement rings that give a sense of grace and elegance – as seen in our Olivia engagement ring – making this the ideal style for a minimalist bride.
Bridal sets
Why have one ring when you can have two – and two that work together. Bridal sets – where the engagement ring and diamond wedding band are in matching designs so they sit perfectly together - are becoming much more common.
Some of the most stylish have slightly curved wedding bands that seem to hug the engagement ring when worn together. 
Shop our bridal ring sets.
Which engagement ring should you buy in 2023?
Trends are fun but ephemeral – instead, choose an engagement ring style that will stand the test of time. Consider the personality of the wearer, your relationship together, and whether they'll be happy to wear that same ring for the rest of their life.
That's the perfect engagement ring style for you.