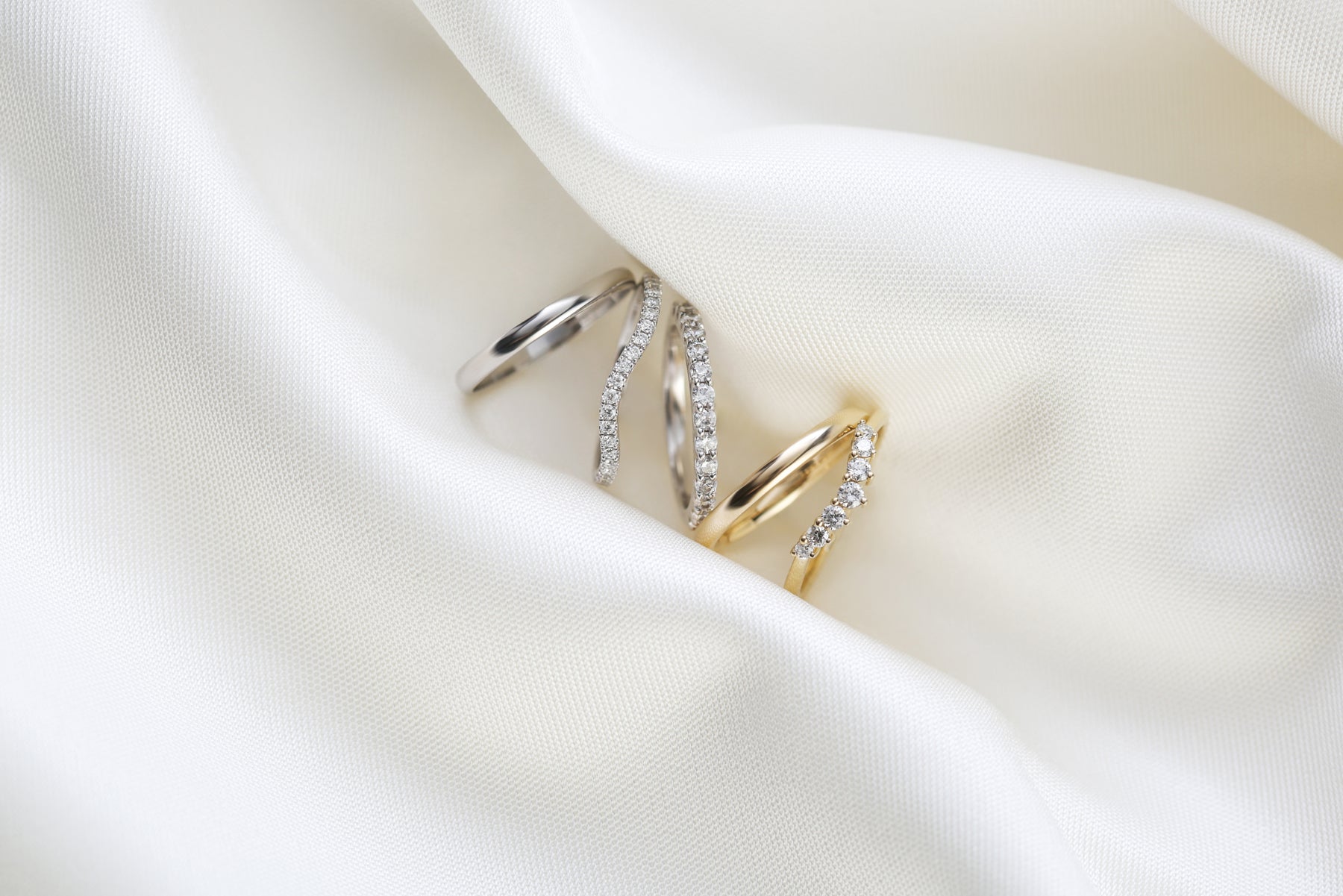 Types of ring settings and styles for diamonds and other gemstones
Ring setting is the fixing of a diamond or other gemstone onto a precious metal band. This marriage of dazzling diamond and classic gold is a fine art. A ring's style is different to its ring setting type as it covers the overall design and look, and covers both the setting as well as the shape and cut of the stone.
Choosing the right ring setting type for your jewellery is another way that you can tailor the jewellery to your tastes and style. 
The question is, which diamond setting types will best reflect your loved one's personality and show off the delightful sparkle of the stone? Our expert guide is here to provide the answers.
Ring settings for diamonds and gemstones is the process of mounting gemstones onto precious bands of metal.
There are many types of ring settings to choose from, each of which exude a unique style.
Styles of ring settings range from a traditional prong setting, where the diamond is held in a metal claw, to a tension setting where the pressure of the band itself holds the stone in place.
Ring setting types
Many different types of diamond ring settings have been devised over time to present the brilliance of diamonds and other gemstones in unique ways. The type of ring setting you choose can also impact on how much light interacts with the gemstone.
Prong ring settings
This classic ring setting for diamonds has long been a popular choice for all ring types. Great for showing off diamonds from a variety of angles, the stone is affixed to the band using between three and ten prongs. A four or six prong claw is the most common setting used.
Bezel ring settings
Like prong settings, a bezel set ring boasts a traditional feel, making it suitable for all ring types. Unlike the claw appearance of prongs, a bezel setting holds the diamond in a metal frame. This can be either a full bezel, surrounding the full perimeter of the stone, or a partial bezel that grips just the top and bottom of it.
Tension ring settings
With a tension setting, diamonds are held in place by the metal band of the ring. This creates the illusion that the stone is floating. Tension settings provides an ultra-modern and intriguing quality to engagement rings. Despite the lack of support the diamond appears to have, this style of ring setting is actually both secure and durable.
Channel set ring
With this elegant ring setting, a channel is cut into a deeper section of the metal band. Smaller diamonds are then set inside this channel and encased within a lip on either the full breadth of the ring or a section of it. This creates a dazzling row of stones on the band, which is particularly popular for wedding rings.
Cathedral ring settings
A cathedral ring setting is instantly recognisable from its graceful twin arches, which evoke classic architecture. Considered the perfect setting for a wedding or eternity ring, the cathedral design usually holds stones securely with either a bezel or prong element.
Types of ring styles
The ring style takes into account both the ring setting type and layout of the gemstones. 
Solitaire ring settings
A solitaire ring setting is the name given to rings mounted with just a single diamond, without any complimentary gemstones. This places sole emphasis on the beauty and brilliance of the centrepiece lab grown diamond. The minimal design of a solitaire setting, combined with a circular diamond, provides an iconic engagement ring style.
Halo ring settings
A halo ring is a very glamorous ring setting where smaller accent stones are fixed to encircle the main gemstone. This mesmerising halo around the centrepiece stone makes the lab grown diamond appear larger. Halo ring settings are a particular popular option for engagement rings.
Cluster Ring Settings
A cluster ring setting features a group of smaller diamonds affixed closely together, sometimes arranged into a special pattern. The beauty of the cluster setting is that it provides rings with character and sparkle. 
Three stone ring settings
Three stone ring settings are a great choice for an engagement, wedding or eternity ring. Also referred to as a trilogy ring, they are defined by a trio of centrepiece diamonds. The three gemstones can symbolise a couple's past, present and future. Others interpret the presence of three diamonds as a representation of friendship, love and fidelity.
Hidden diamond setting
Another ring setting style, which has become more popular in recent times, is the hidden diamond setting. In this type of ring, a small hidden diamond is affixed to an opposing side of the band from the main gemstone. This adds extra intrigue and another dimension to the ring.
Summary
The variety of ring setting types and styles available give you another opportunity to tailor jewellery to your loved ones. By choosing the right style for the wearer, you can create a ring that reflects their personality and best emphasises the brilliance of the diamond.