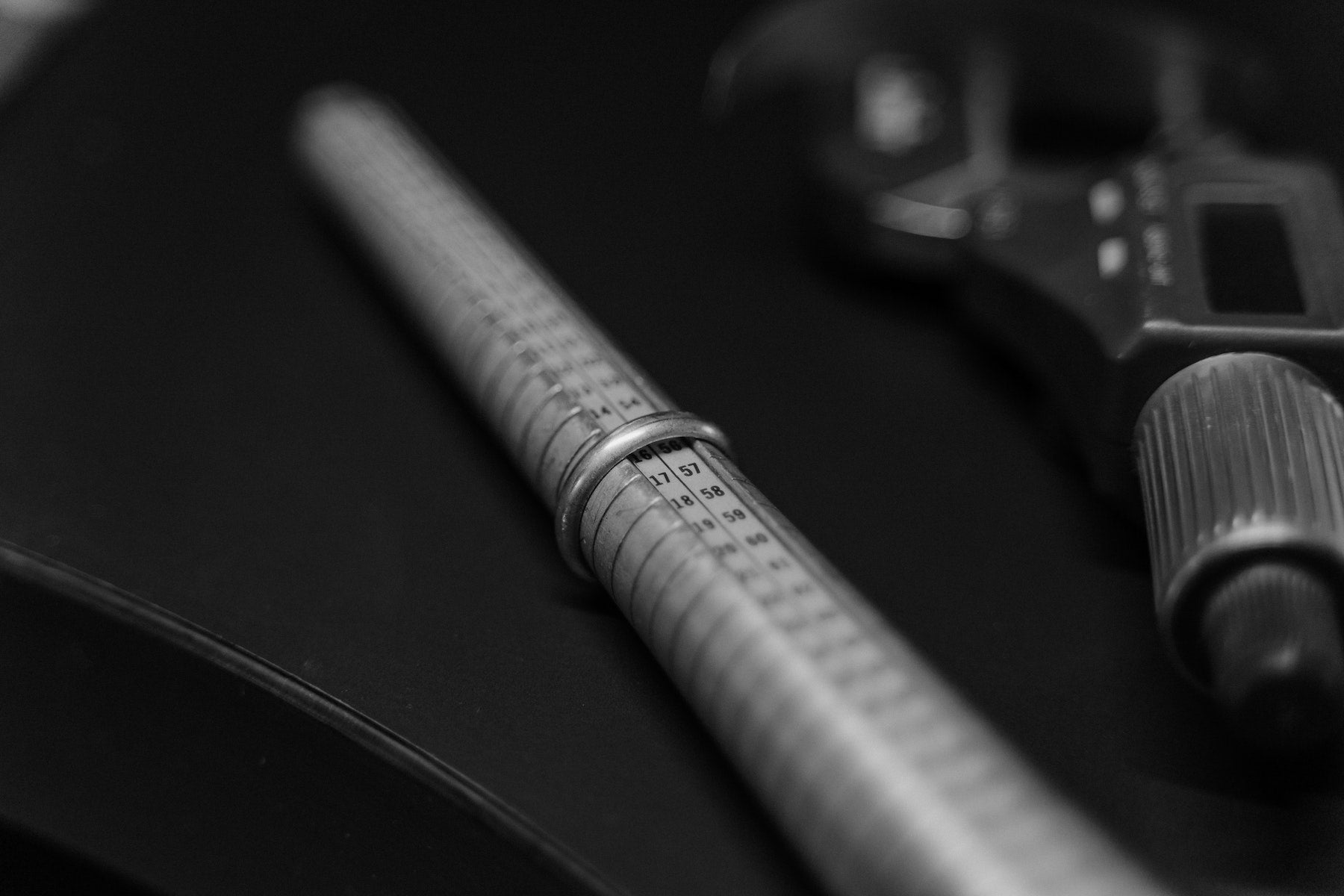 How to find the ring size for you and someone else
When it comes to buying a ring, it's important to get the perfect fit. Rings can be resized but you don't want to be on one knee, sliding the ring on the finger and for it to stick half way. 
Whether you're looking for an engagement ring, wedding ring, or simply a gift for yourself or someone else, you need to know how to find out the correct ring size.
In this guide we'll explain how to measure your ring size, as well as how to find out someone's ring size without asking them – so you can surprise them with the perfect fit.
What to know about ring size
Jewellers use an official size guide for rings, but each country has its own labelling system.
Measure your finger for a ring with an official ring sizer or use a piece of string to calculate the circumference you need.
To find out someone's ring size without asking them, you can either calculate the size of one of their current rings or sneakily measure their finger while they sleep.
Order our

 

free ring sizer

 

today and find your perfect fit.
Ring sizes – how to measure your ring size in the UK and worldwide
Ring sizes in the UK are labelled F to Z, with F being the smallest. Other countries use different sizing guides, with different measurements and naming conventions. If you know your ring size in one country, it's very easy to convert from one to another.
For example, if you're a UK ring size L, then you'll be a size 6 ring in the US. Or if you have a finger circumference of 61.3mm, then we know you need a size T ring in the UK and a size 10 ring in the US.
UK ring sizes in mm
| | |
| --- | --- |
| UK Ring Size | Inner Diameter (mm) |
| J | 15.7 |
| K | 16.1 |
| L | 16.5 |
| M | 16.9 |
| N | 17.3 |
| O | 17.7 |
| P | 18.1 |
| Q | 18.5 |
| R | 18.9 |
| S | 19.3 |
| T | 19.7 |
| U | 20.1 |
| V | 20.6 |
| W | 21.0 |
| X | 21.4 |
| Y | 21.8 |
| Z | 22.2 |
How to measure ring size using a ring sizer
Order our free UK ring sizer to know what size ring you are. It's very easy to use: 
Slide the pointy end into the buckle to form a circle
Slip the 'ring' on to your finger

 

Tighten by pulling on the pointy end.

 

It should feel comfortably tight and not too loose.

 

The ring needs to fit over the knuckle but not be too loose or it will shift around.
Once you're sure it fits correctly, make a note of the letter indicated by the arrow on the ring sizer. This is your UK ring size.
How to check ring size with paper
If you're buying a ring as a surprise gift, or you just don't have time to wait for delivery, then you can simply download and print our ring size guide.
Find a ring that you – or your lucky recipient-to-be – already wear on that finger and match it with the correct size circle.
How to measure ring size with string
Another way to find out ring size is by using string and a tape measure.
Wrap a piece of string around your ring finger and mark the points where the two ends meet. Then measure the distance between the two marks and you'll have your inner circumference measurement in mm. You can use our ring size guide and table above to convert it to the correct size. 
How to find out someone's ring size without asking them
There are a few ways you can secretly find out ring size when you want to surprise that special someone with a dazzling engagement ring that fits perfectly.
First, if they already have a ring they wear on that finger, you can use our printable ring size guide to check what size it is.
The second - more sneaky - method is to carefully measure their ring finger while they sleep. Just make sure you have a good excuse ready in case they wake up.
If you're really struggling to find their ring size, keep in mind that it's easier to resize a ring that's slightly too big, than one that's too small. 
Summary
Nothing will delight your loved one more than knowing you've taken the time to find a ring that suits – and fits - them perfectly. No matter which ring setting or precious stone you choose, getting the ring size right will show you truly care.
Order our free ring sizer today and find your perfect fit.