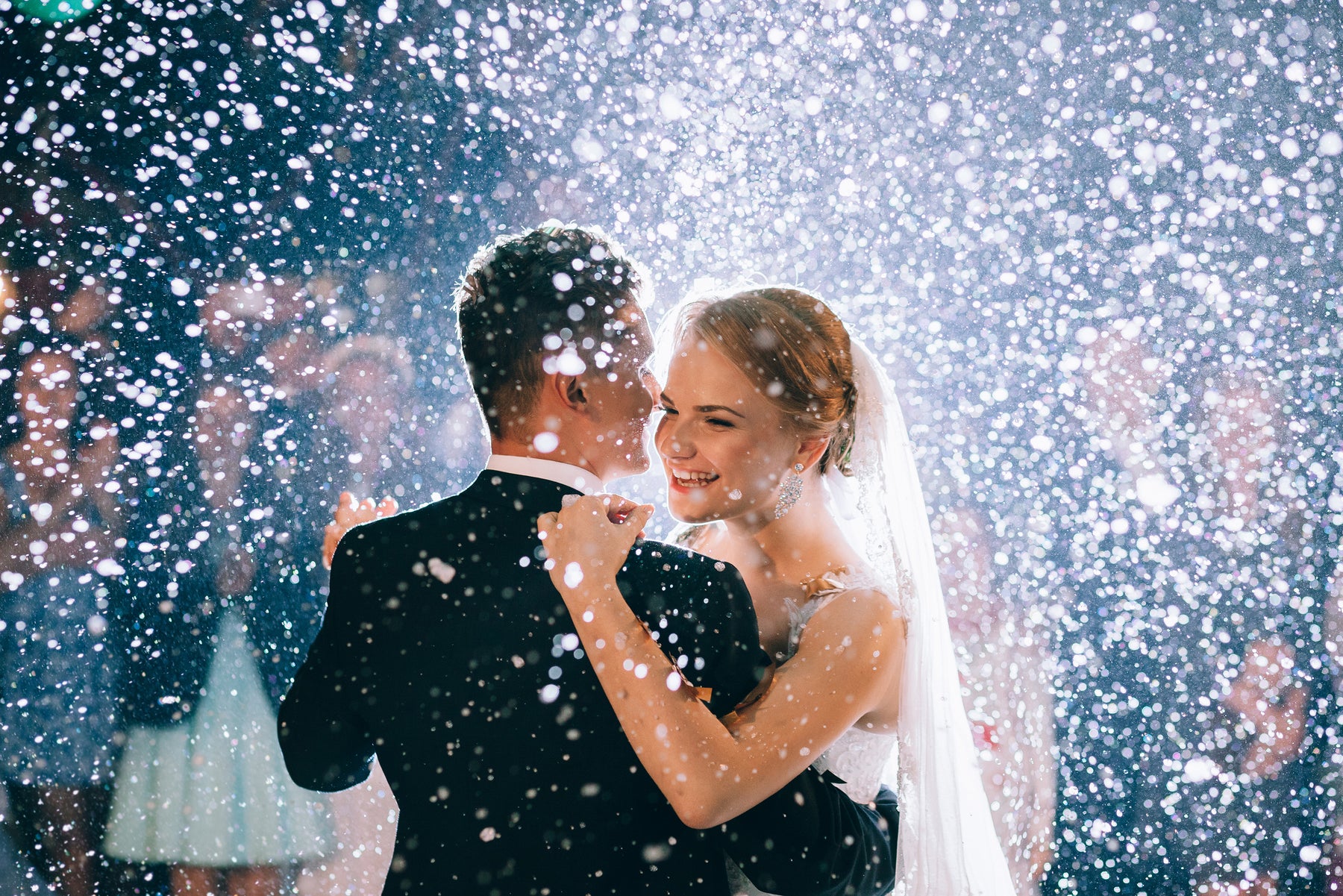 Everything you need to know about wedding songs and playlists [with 9 Spotify Playlists!]
Wedding planning can be stressful, but the one thing can control – and have a little fun with – is your wedding playlist.
Putting together a wedding songs list is a great task to work on together. Simply add a glass of red or a sample of champagne to turn it into a pre-wedding date night!
And if you're unsure where to start, then Created Brilliance is on hand with our Ultimate Guide to Wedding Music and Playlists.
Not only that, but we've also gone and put together some carefully curated and hugely inspirational wedding playlists on our Spotify account (our offices have been alive with the sound of Bruno Mars and Neil Diamond for few weeks).
Whether you're looking for wedding entrance songs, songs to walk you down the aisle, or the best wedding exit songs – we've got you covered.
Table of contents:
Top 10 most popular wedding artists
We analysed the UK search data to see which artists were featured most highly in Google's results for 'wedding playlists'. Here are the results you might want to add to your wedding songs list:
Ed Sheeran. We think 'Perfect' is the perfect first dance song.
Taylor Swift. Why not add 'Lover' to your wedding playlist.
Michael Jackson. 'The Way You Make Me Feel' mixes love song lyrics and dance floor grooves.
Elvis Presley. The King has a number of great wedding songs but our favourite is 'I Can't Help Falling In Love with You'.
Whitney Houston. Get everyone on the dance floor with '(I Wanna) Dance with Somebody'.
Arctic Monkeys. Start the party with 'I Bet You Look Good on The Dance Floor'
Bruno Mars. Well it has to be 'Marry You', doesn't it?
Justin Timberlake. 'Can't Stop The Feeling' will make everyone at your wedding want to 'dance, dance, dance.'
Frank Sinatra. So many to choose from but 'The Way You Look Tonight' is a good, all-round favourite.
Stevie Wonder. Again, could be any number of tracks but we love 'Isn't She Lovely'.
Choosing music for the wedding ceremony
The wedding ceremony itself is usually a place for light music: romantic and, often, classical. These days, however, many people prefer choosing a more personal song for walking down the aisle.
Where you get married will also play a part in your music choice. For church weddings, hymns and classical music are most popular. If you're having a civil ceremony, you legally aren't allowed to play any religious songs on your wedding ceremony playlist (what constitutes religious music is down to the discretion of your registrar).
Choose a personal song
It's important to pick a song that means something special to both of you. What did you listen to non-stop when travelling the world? What was playing when you met? Did your proposal have a soundtrack?
Also, bear in mind that while the walk down the aisle might feel like an eternity, you'll actually only hear around a minute or so of your chosen wedding song. So, avoid tracks with long introductions.
Key moments for wedding ceremony songs
It's not just the walk down the aisle to consider. Here are three other key wedding ceremony moments that you'll need songs for:
Entrance: This music can cover the arrival of guests and the whole wedding party's entrance, not just the moment the bride walks down the aisle. Most people go classical, with Mendelssohn's 'Wedding March' topping the charts for most popular song to walk down the aisle to. If you're getting married outside a church, however, you may want to pick some gentle lo-fi or acoustic covers to have playing as guests arrive.
Signing of the register: Once the legal ceremony is over, choose a romantic playlist to play while you sign the wedding register. You'll probably need around 10-15 minutes of music to cover the signing.
Exit: After you've swapped wedding rings, you can go for something a little more upbeat! Much like the entrance music, most newly wedded couples opt for wedding exit songs that mean something to them. The length of your Wedding Walk Out playlist will depend on your reception plans. If you're changing venues, keep it short and snappy. But if you're having the reception at the same venue, you can make it longer, to cover greetings, photos, drinks and canapes.
Wedding ceremony playlist
Dive into our Wedding Ceremony Spotify playlist:
Our top 5 wedding ceremony songs:
1. Wedding March – Felix Mendelssohn
2. Over the Rainbow – Israel Kamakawiwoʻole
3. Pachelbel's Canon in D Major – Pachelbel Orchestra
4. When You Say Nothing At All – Ronan Keating
5. Thousand Years – Christina Perri
How to choose a first dance song
You're married! Now you can kick off your shoes and party – starting with your first dance.
Tips for choosing your first dance song
Go personal. You don't need to pick a floor-filler here – it doesn't matter if the only two people who know this song are you and your partner. This is your moment, so choose a first dance song that's meaningful to you.
Practice, practice, practice. If you're doing a first dance, keep it simple, practice beforehand, and don't pick a song that's impossible to dance to.
Keep it brief. But also, you'll be dancing in front of everyone – so don't choose an epic 7-minute tune.
Pick a point for everyone to join in. Become familiar with the song and choose a point for others to join you on the dance floor. Communicate this to your loved ones ahead of time, so they can lead the way.
Don't over think it. Look, it's your moment. If it's causing you stress, then just choose something simple and romantic. Use our playlist below for some First Dance wedding song inspiration.
Wedding first dance playlist
Here are some of the UK's most popular first dance songs – plus a few favourites chosen by the team at Created Brilliance. Can you guess which ones we've added?
Our top 5 wedding first dance:
1. At Last – Etta James
2. Rule the World – Take That
3. Thinking Out Loud – Ed Sheeran
4. Can't Help Falling in Love – Elvis Presley
5. All of Me – John Legend
Creating the ultimate wedding reception playlist
Choosing your songs for the wedding reception is fun – but it can also be a bit of a minefield. There's an art to keeping your guests on the dance floor without resorting to the same songs you hear all the time at every other wedding.
We've got some top tips for choosing your wedding reception songs, as well as a curated playlist of the very best songs for any wedding reception party.
How many songs? This depends on how much freedom you want to give the DJ. Send them a link to a shorter playlist (check out our choices below) to give him an idea of the type of songs you want, or if you're plugging your phone in on the night: make sure you have enough songs on the list to last until the last guest leaves.
Ask your guests. Yes, it's your party, but remember that you're planning a playlist for potentially dozens of people – and you want to get your granny dancing along with your best mates. Ask your guests to send over their favourite dancing song and add it to the list, that way everyone is guaranteed a boogie!
Choose a theme. For a fun twist on the standard wedding playlist, choose a theme. For instance, you could opt for a 70s disco-themed reception party, or maybe you're more of an indie darling who wants to rock out. A theme will also help a DJ or band build their set list.
Pick a great song to walk into your wedding reception. Depending on the planning, you may have to disappear to get photos taken, change outfits, or simply escape for some time together. Make your re-entrance with a fun music choice – whether you want to be 'Crazy in Love' with Beyonce or show how good you look on the dancefloor with the Artic Monkeys.
Do NOT play. Nothing spoils the wedding mood more than a song that you both hate or has negative memories for you. Flag these tracks with your DJ beforehand to ensure they're not played at your party.
Let the DJ choose. DJs aren't just there to cue up the next song. They know what works well at weddings – that's why you're paying them to be there! They'll know when it's time to ramp it up or slow it down, along with all the best songs to get everyone on the dance floor.
Our top 5 wedding reception songs:
1. Crazy in Love – Beyonce
2. Love Shack – The B-52s
3. All Night Long – Lionel Richie
4. I Feel Love – Donna Summer
5. Don't Stop Believin' – Journey
Wedding reception playlists for every occasion
If you want to tailor your wedding reception playlists to your own taste, but aren't sure which songs to include, we can help.
We've curated a selection of inspirational playlists for wedding receptions classified by genre. Simply find your favourite type of music and go pick the best wedding reception songs from our playlists.
Wedding Rock Songs
Unless your family and friends are all metalheads (in which case, rock on), we're not talking about Slipknot here. Think more classic rock and modern indie. We've included some truly great rock tunes to dance to, as well as some power ballads to entice the slow movers.
Party songs for weddings
These are your classic floor fillers. From the modern pop hits to the 70s groovers, we've pulled together a huge array of wedding party songs for you to choose from. Get those hips moving to Bruno Mars or relive your youth with some classic Madonna.
Country music wedding songs
The UK country music scene is growing fast and we expect to see plenty of country classics popping up this season. Whether you're looking for classic Americana from Dolly Parton or a more modern some pop-country vibe in the form of Taylor Swift, there's plenty to choose from in our County Music Wedding Playlist.
Bollywood wedding songs
No Indian wedding is complete without some truly excellent Bollywood music. These toe-tapping tunes are guaranteed to get everyone on the dancefloor!
Best wedding disco songs
Get your groove on and throw your troubles away with some classic disco tunes. These wedding songs appeal to all ages, from your aunty (who probably hit the clubs to these tunes in her youth) to young kids who'll love going to the Car Wash.
80s wedding songs
80s music is the heart of many wedding playlists these days. The decade churned out a huge variety of classics that are always guaranteed to get people dancing at weddings. Whether it's Whitney, Bowie or Cyndi Lauper you're sure to find some of your favourites in this playlist!