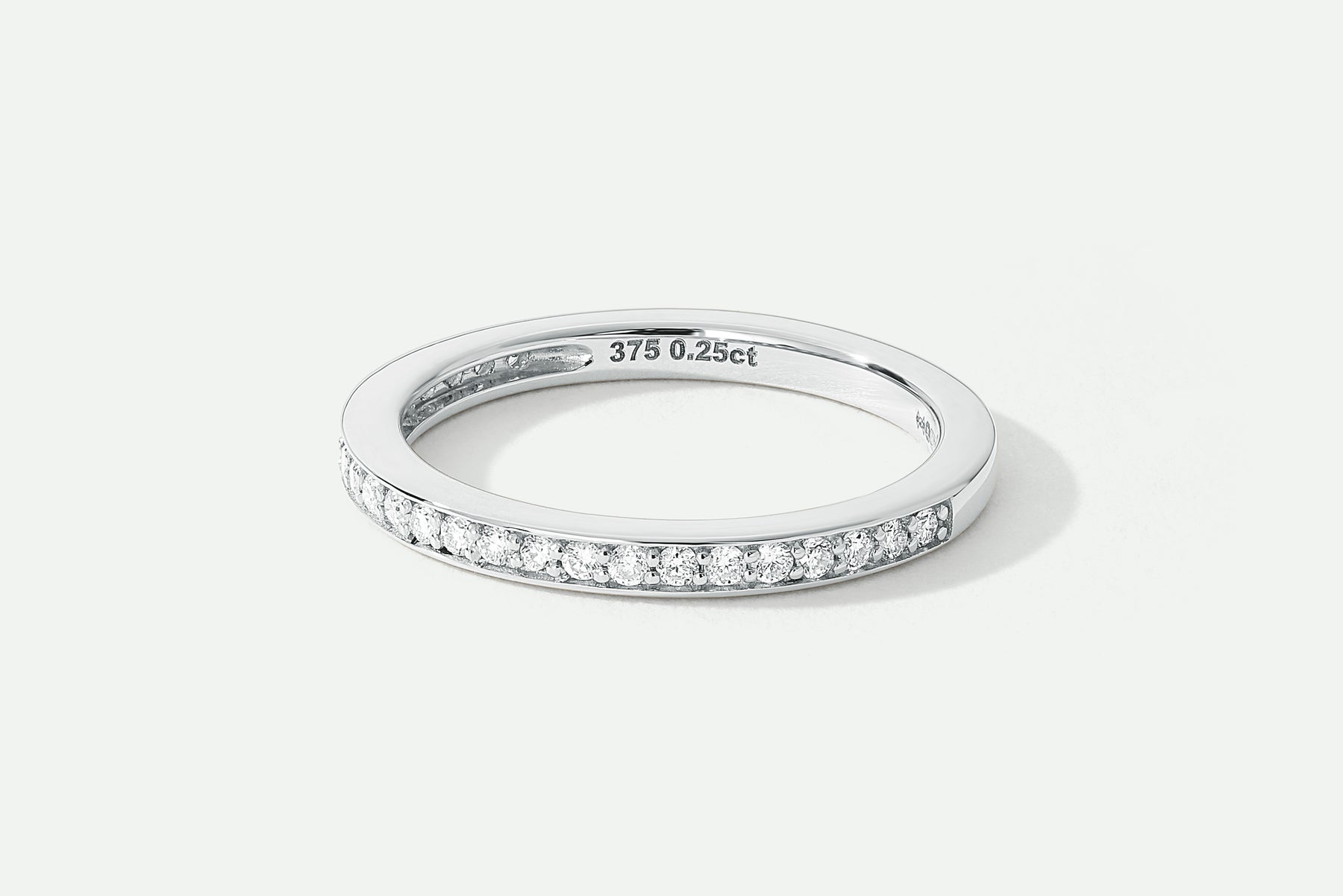 How to wear an eternity ring
For couples who like to keep the romance going long after the wedding cake has all been eaten – and maybe after their children have fled the nest – an eternity ring is considered to be love token of choice.
If you've been lucky enough to receive an eternity ring – or are simply looking to buy an eternity ring together with your partner – we can help you decide how to wear it, which hand or finger it works best on and which rings go where.
Eternity rings are often bought for major life milestones such as anniversaries and birth of children
They can symbolise everlasting love and can be a celebration of time spent together
Most eternity rings can be worn on pretty much any finger
What is an eternity ring?
Eternity rings pre-date engagement rings as a token of love between two people – the eternity concept coming from the ring shape that has no end and no beginning.
The earliest examples found date to the Egyptians. Today, they are an additional ring to the wedding bands and engagement ring, or can be bought between two people who aren't married but want to show their love for each other.
Eternity rings tend to follow a similar design to wedding bands - a ring of gold, often with smaller diamonds adorning one side. Some might also include rubies, emeralds or sapphires to add a sparkle of colour.
Browse our full range of lab grown diamond eternity rings
Eternity ring: how to wear
If you're a traditionalist, you would usually wear your eternity ring alongside your wedding and engagement ring.
But these deeply personal rings can be worn wherever best suits you – whether that's on another finger to sit next to your wedding ring, or on another hand completely.
Take a look at your existing jewellery and your new eternity ring and see where it looks its best – does the metal of your chosen ring clash with other rings or do they complement each other?
Would the more subtle design of the eternity  ring be lost next to a larger gemstone?
Which order do you wear engagement, wedding and eternity rings?
The most common order is to have the wedding ring on first, so it is closest to your heart. Then you put your eternity ring on next, followed by the engagement ring.
At Created Brilliance, we stock eternity rings with a slight curve. This helps them to nestle closely to engagement rings with larger gemstones. As some of our wedding bands also have the same curve, it would be easy to wear the three rings together.
Where to wear an eternity ring?
If you choose not to wear it on your ring finger alongside your bridal set of rings, there are other options. Many people choose to wear it on the opposite hand to their engagement and wedding rings to provide symmetry and balance.
For those who prefer a more modern look, you could wear it on your little finger. This is a stylish and non-traditional look but one that works well for many.
Alternatively, if you change your jewellery daily, you could replace the wedding band for the eternity ring, or keep your engagement ring stored safely away and wear the wedding and eternity rings together.
So, how do you wear your new eternity ring?
Eternity rings can be the truly unique way to show someone you love and care for them – even after all these years. How and where you wear your eternity ring is up to you. Go traditional and place it between your wedding and engagement ring, or go bold and stick it on your little finger. The choice is yours.