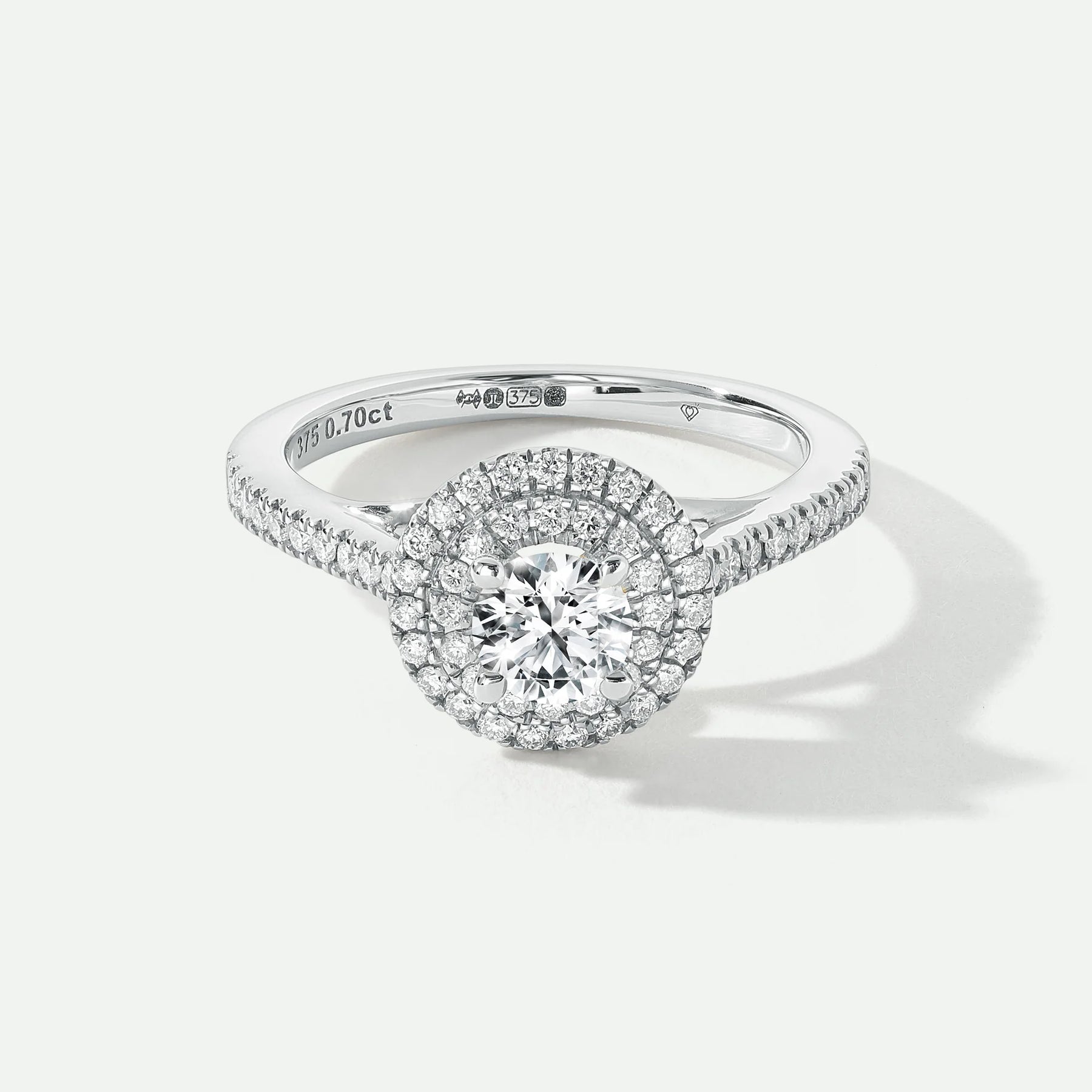 What is a halo ring?
There's a certain feeling conjured up by the word 'halo' – of angels, light and heavenly beauty. So it's no surprise that jewellery designers through the ages have drawn on this connection when naming perhaps one of the most beautiful ring styles.
But what exactly makes a halo ring special? In this blog post, we'll dig deeper into the essence of halo rings, their history, the different types of diamond halo rings, and why it continues to captivate the hearts of jewellery-lovers around the world.
What is a halo ring?
A halo ring is a type of jewellery that features a central gemstone – usually a diamond, but not always – surrounded by a ring or "halo" of smaller diamonds or gemstones.
This surrounding halo enhances the overall appearance of the centre stone, making it look larger and more dazzling.
Diamond halo rings are a popular option, but the design offers endless possibilities for customisation. The shape and size of the halo ring setting, the colour of the gemstones, and even the colour of the band can all be combined to create a truly unique halo engagement ring.
Some of our most popular halo engagement rings feature a lab grown emerald or ruby, surrounding by our lab grown diamonds. This contrast between deep greens and reds and the sparkle of the smaller diamonds makes for a truly spectacular ring.
The history of halo rings
Jewellery designs similar to a halo ring featuring a central gemstone surrounded by smaller stones can be found throughout history, going as far back as the Roman empire[1].
But while the idea of halo rings has ancient roots, the concept of specifically using smaller gemstones to give the illusion of a larger (and more expensive) centre stone only began to appear during the Georgian era (1714-1830) [2].
Their modern resurgence can be attributed to the Edwardian and Art Deco periods [3][4], when lavish jewellery designs became fashionable.
Halo diamond rings have remained a sought-after choice for engagement rings and other special occasions throughout the 20th and 21st centuries. Their enduring popularity is a testament to their elegance and timeless appeal.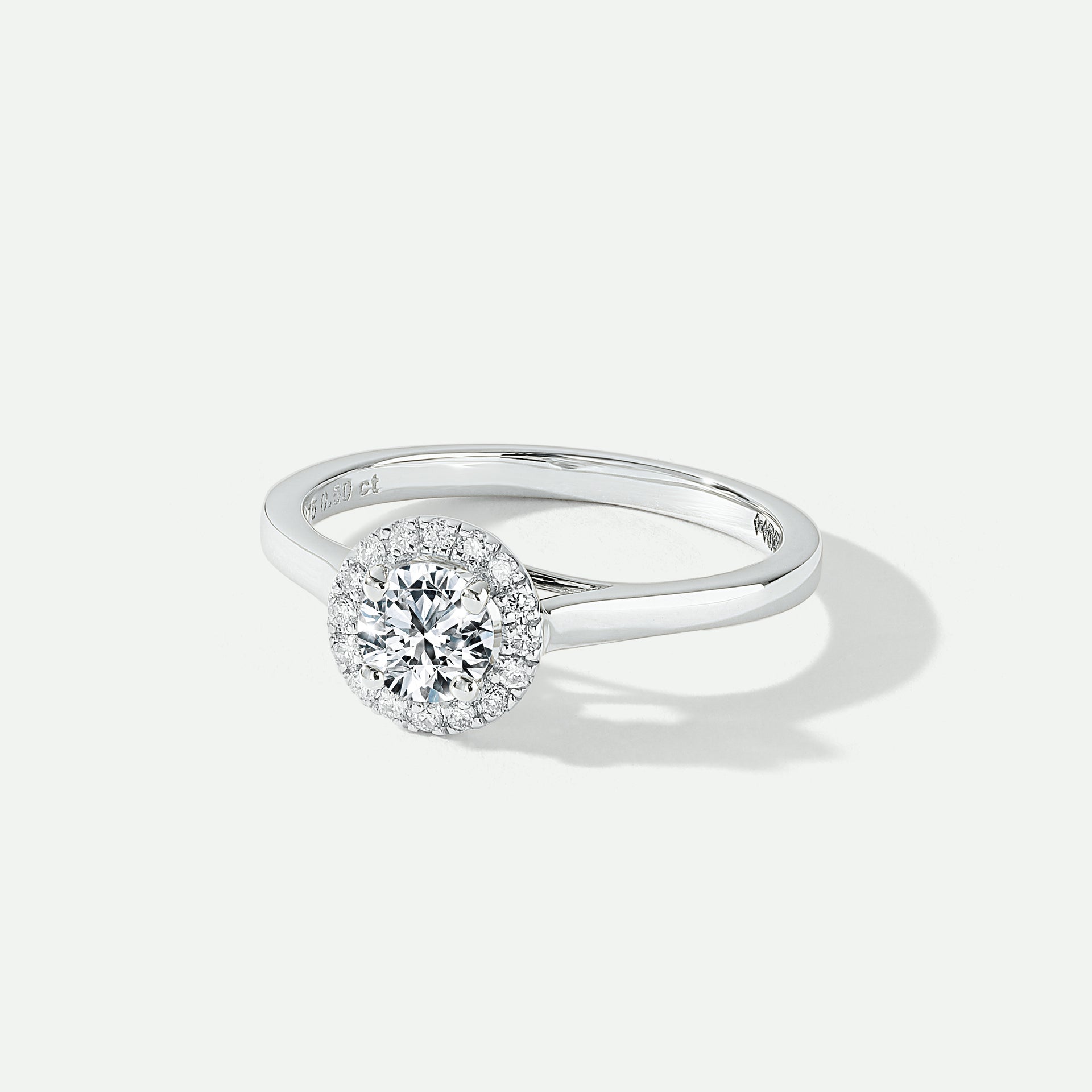 Celebrity halo engagement rings
Princess Diana's oval halo engagement ring is one of the most famous engagement rings of all time. Now worn by her daughter-in-law Princess Catherine, the stunning blue sapphire is surrounded by a halo of smaller diamonds that help highlight the colour and size of the main stone.
Actress Millie Bobby Brown has a more classic style of diamond halo engagement ring. Her round diamond is entirely surrounded by a diamond halo. She also has a diamond pavé detail on the platinum band, which really enhances the sparkle of the central stone.
For a more modern interpretation, we can look at Rita Ora's stunning engagement ring. The central stone is a radiant-cut emerald, surrounded by a bezel-set halo of smaller diamonds that highlight the size and colour of the emerald.
Types of halo ring settings
Round halo engagement rings
Round cut diamonds are a sophisticated and classic choice for a halo engagement ring.
If you're looking for a ring design that's a little more unique than a simple solitaire, adding a halo setting to a round diamond will add a unique touch to your engagement ring. It's a cost-effective way to make a smaller round diamond look bigger than it is.
For instance, you could choose to surround your round cut diamond with a square halo to enhance the size of the central stone. Or opt for a double halo to really maximise the sparkle!
Oval halo engagement rings
Oval halo engagement rings offer a unique spin on the traditional round cut diamond.
Oval diamonds are renowned for their elongated shape, which makes them a flattering and elegant choice for an engagement ring.
Make your oval diamond look bigger than it is with a diamond halo, or channel your inner princess by choosing contrasting colours for the central or halo stones.
Pear cut halo engagement rings
Pear cut halo engagement rings appeal to those who want to make a statement with their ring, celebrating the extraordinary in a world full of the ordinary.
The pear-shaped central diamond – sometimes referred to as a teardrop shape – is a stylish choice for modern brides. Encircled by a halo setting of smaller stones, it offers an unconventional yet elegant look.
For maximum sparkle, opt for a pavé band as well.
Emerald cut halo engagement rings
Emerald cut halo engagement rings are the perfect choice for anyone who likes bold Art Deco designs.
Emerald cut diamonds are prized for their clean lines, step-cut facets, and a distinct character. By adding a diamond halo ring setting, you can emphasise the sharp angles for a look that's both sophisticated and striking.
Shop halo rings
If you've been inspired by our history of halo rings, then why not head over to our Lab Grown Diamond Halo Ring page.
FAQs: Popular questions about halo rings
Do lab grown diamonds look good in a halo ring?
Absolutely! Lab grown diamonds are physically identical to natural diamonds, making them just as brilliant. The only difference is that lab grown diamonds are more environmentally-friendly.
What metals are commonly used for the band of diamond halo rings?
Popular metal choices for halo rings are white gold and yellow gold. Yellow gold is a classic choice for an engagement ring, but the silvery brightness of white gold can really enhance your diamonds' clarity and make the stone looking even bigger.
Are halo rings suitable for all occasions, or are they just for engagement rings?
While diamond halo rings are often chosen as engagement rings, they are also versatile enough to be worn for any special occasion. Their timeless appeal makes them a meaningful gift for anniversaries, birthdays, or even as a self-indulgent treat.
References
[1] https://www.metmuseum.org/art/collection/search/663488
[2] https://www.langantiques.com/university/georgian-jewelry-1714-1837
[3] https://www.langantiques.com/university/edwardian-jewelry-1901-1915
[4]
https://www.langantiques.com/university/art-deco-jewelry