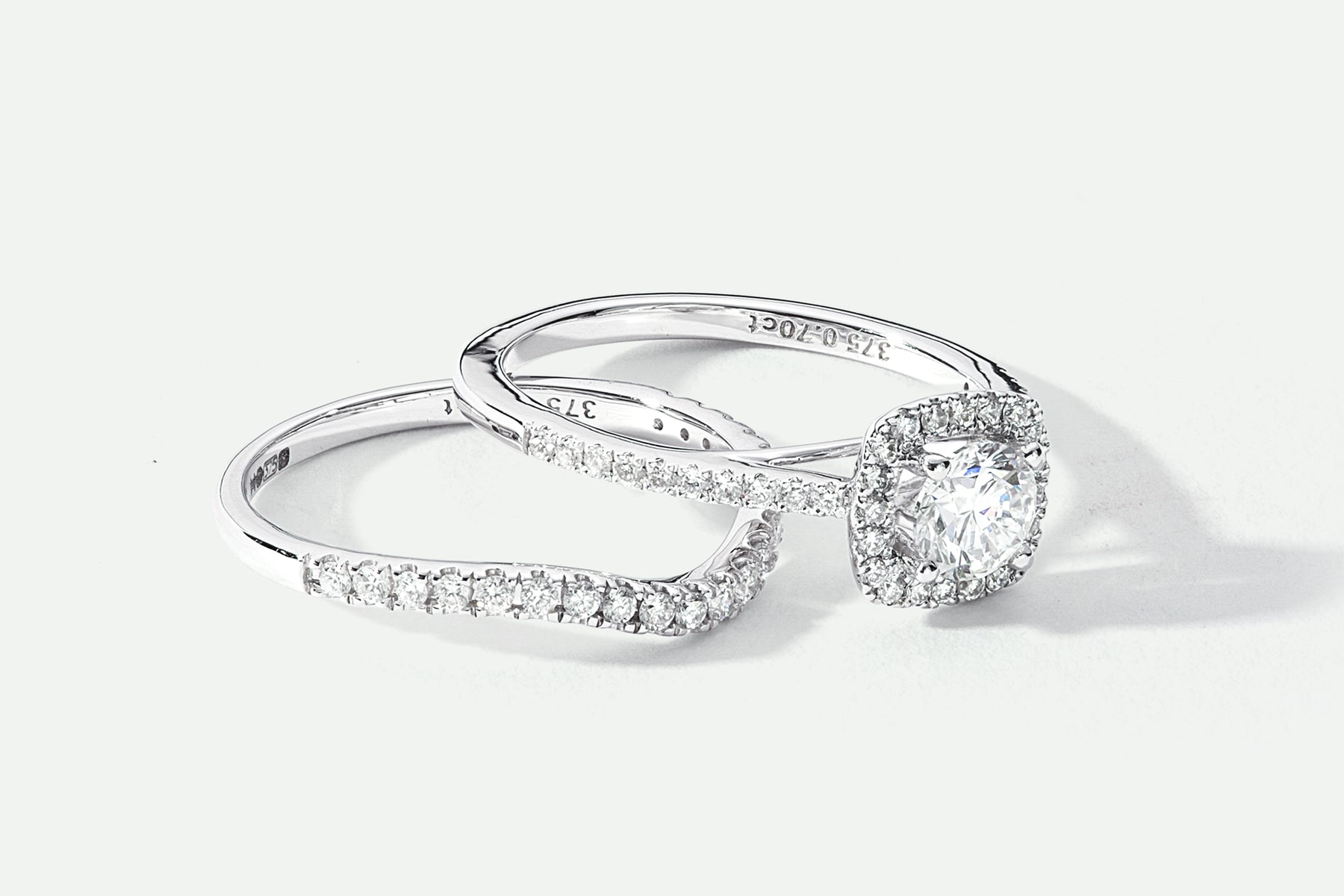 What is a bridal set ring?
Wedding planning is both hugely exciting and – let's be honest – a little overwhelming at times. Thankfully, there are some ways to make life easier and ensure you get your perfect day without too much worry.
One of these ways is by buying a bridal set of rings.
Buying a bridal set means you get the wedding band you always dreamed of, and already know it will sit perfectly alongside your beautiful engagement ring.
We'll help you choose the perfect bridal set with our in-depth guide on what they are, how to wear them, and the different types of bridal ring sets.
What is a bridal set?
A bridal set of rings – sometimes called a wedding ring set – refers to a matching set of wedding band and engagement ring.
Usually, the engagement ring is the more extravagant of the two rings, with a sparkling diamond or gemstone centre. It's sometimes surrounded by other, smaller stones.
The wedding band is usually more understated. The classic design for a wedding band is a simple ring in gold. Sometimes, they can be adorned with smaller diamonds to add a touch of glamour.
Traditionally, the two rings should be worn together as a set. While you can buy these two rings separately, even from different retailers, a bridal set means you get two rings that match in style and sit side by side.
Created Brilliance have a range of bridal ring sets that have been created to be worn as a set, with a slightly curved wedding band that fits perfectly against the diamond setting of the engagement ring.
"Bridal sets are becoming ever more popular, especially among those planning a themed wedding. By having rings that match, it can add to the overall theme of that wedding." Sophie Milner, Buyer, Created Brilliance.
Why do some bridal sets have three rings?
Most bridal sets have two rings – one for an engagement and the second for the wedding itself. Many happily married couples, however, like to keep that sense of romance alive after the wedding day. One way of doing that is by celebrating additional life milestones with the gift of a third ring.
An eternity ring is the perfect addition to a bridal set. They can be gifted to celebrate an anniversary, the birth of a child, or the renewal of your wedding vows.
How to propose with a bridal set
If you're planning on buying a bridal set, then you have two options when proposing.
The first is to buy an engagement ring from somewhere you know stocks bridal sets, so you can choose the wedding band later together. Created Brilliance can easily match an engagement ring to a wedding band for you.
The second option is a bolder choice – go all out and buy the full bridal set beforehand. Use the engagement ring to propose, and when you get into the wedding planning stage you can surprise them with a wedding band that sits perfectly next to their engagement ring.
Don't worry too much if you realise the ring isn't right for your loved one – Created Brilliance offers free 30 day returns and free ring resizing, so you can make sure both of you are happy with your bridal ring set.
How to wear a bridal set
While you'll probably wear the engagement ring long before the wedding day, the traditional way to wear a full bridal set is to place the wedding ring on your finger first, with the engagement ring on top.
The romantic reasoning for this is that the wedding ring should be worn closest to your heart. This is the same reason bridal ring sets rings are usually worn on the left-hand ring finger in the UK.
The Created Brilliance range of bridal sets works by adding a curve to the wedding band, so that the two rings can sit comfortably side by side.
But it's up to you! While we love a bit of tradition, we also like to look to the future and emphasise that not everyone is the same. If you want to wear your engagement ring first, then go for it. If you want to split them and have a ring on two different fingers or even different hands, that's fine as well. It's your wedding, your relationship, and your choice.
Where to buy bridal sets?
At Created Brilliance, we stock a number of wedding bands and engagement rings that can be worn together as a bridal set. Each ring design is available in both white and yellow gold.
The table below shows which engagement ring goes with which wedding band to create the perfect bridal set:
| | |
| --- | --- |
| Engagement ring | Matching wedding bands |
| | |
| | |
| | |
| | |
| | |
| | |
Many of the engagement rings in our bridal sets are also available with stunning lab grown pink diamonds.
Browse our full range of bridal ring sets to see how each ring complements the other.