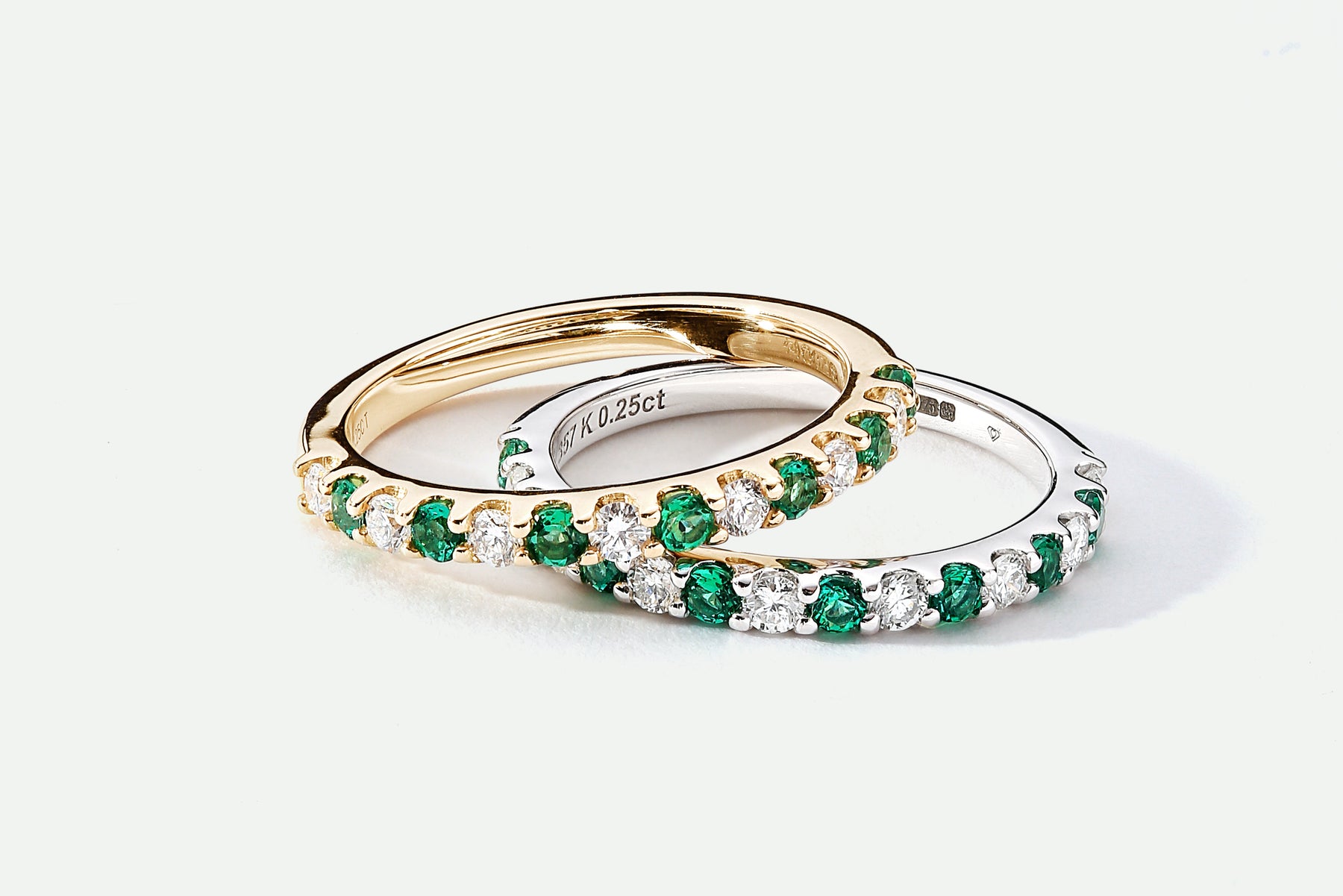 When do you buy an eternity ring?
Unlike wedding and engagement rings, the best time to buy an eternity ring is less prescribed and more to do with why you want to give this romantic gift.
Eternity rings have just as much history as the more traditional wedding rings, but in today's modern world there is no one reason to give an eternity ring. Instead, many couples use them to celebrate personal life events and milestones.
Eternity rings are similar in style to wedding bands and given to celebrate life events
The most common reasons to buy an eternity ring are anniversaries and to celebrate a child's birth
They can also be given to celebrate something more personal to the couple
When do you traditionally give an eternity ring?
The most common reason people give eternity rings today is the first anniversary of a wedding.
However, if we are to go by the traditional anniversary gifts, the first anniversary is paper. If you're planning on giving an eternity ring for the first anniversary, why not wrap it up in brown paper.
Eternity rings can also make great 40th wedding anniversary presents as well, as the traditions state that the 40th anniversary is rubies. This means a ruby eternity ring would be the ideal gift.
The same applies for the 50th wedding anniversary when you could surprise your loved one with a gold eternity ring or your 60th, when you can go all out with a lab grown diamond eternity ring.
What is an eternity ring given for?
While eternity rings are often bought to celebrate anniversaries, there are a variety of reasons why you might give an eternity ring.
Birth of a child: It is becoming more common to buy an eternity ring to celebrate the birth of a child – especially the first child. Eternity rings represent eternal life, so what better occasion to buy an eternity ring for the new mum.
Personal anniversary: It doesn't have to be a wedding anniversary, it could be to celebrate when you first met, first bought a house or had your first date.
Renewal of vows: If you choose to renew your wedding vows, an eternity ring can take the place of a more traditional wedding band. At Created Brilliance, many of our gold and diamond eternity rings are curved to fit alongside your existing bridal set of rings.
Birthdays: If you're looking for something special to give for a milestone birthday, then why not buy an eternity ring.
Can you give an eternity ring before marriage?
Yes, it's your choice when to give or buy an eternity ring. Don't worry about tradition – in this day and age, you can give an eternity ring simply because you want to make someone you love happy.
And you can wear your eternity ring however you want – even if you don't have a wedding and engagement ring.
Should you buy an eternity ring?
That's up to you. But if you need a little help with your eternity ring, check our guide on how to find someone's ring size before shopping our full range of lab grown diamond and gemstone eternity rings.