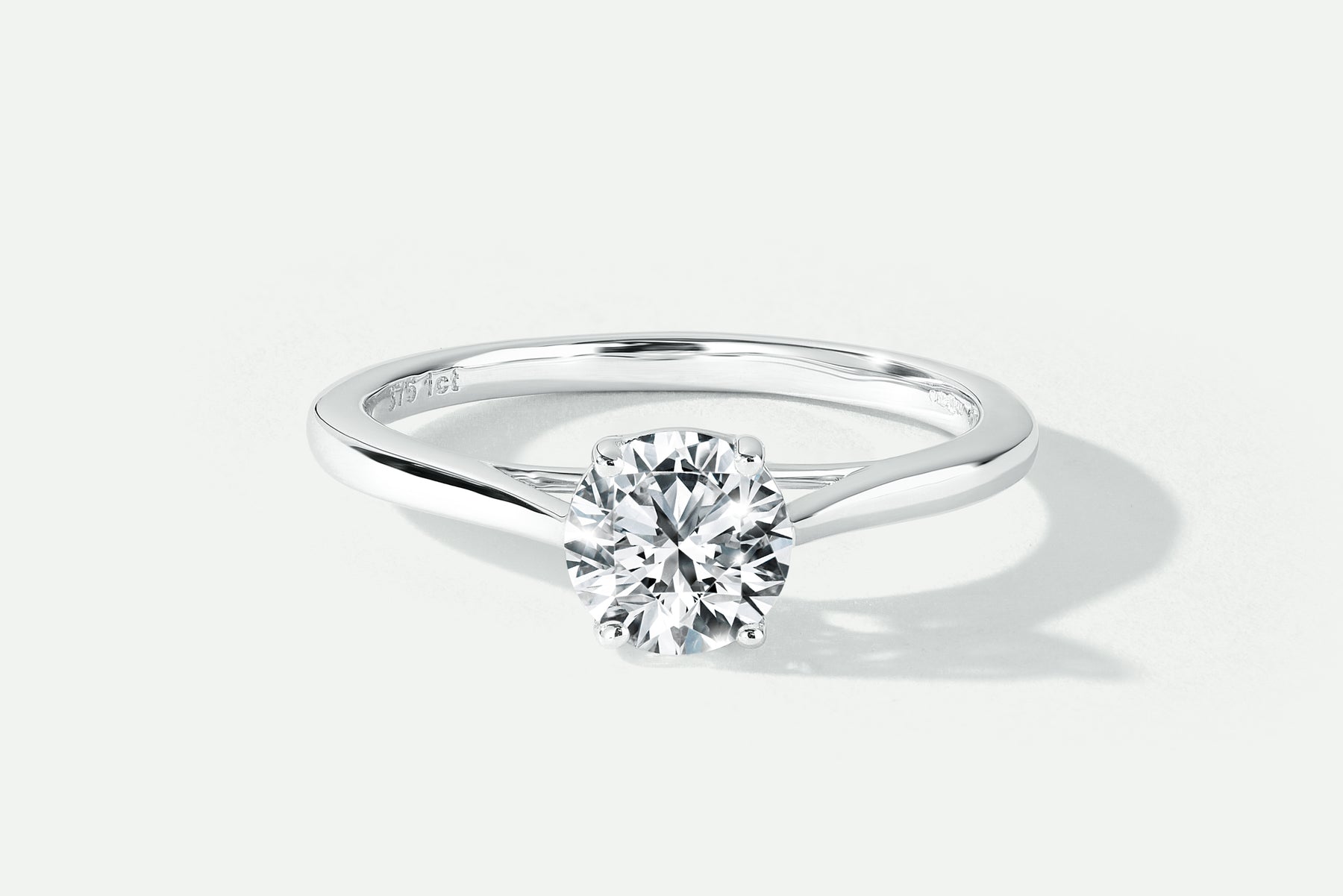 What is a Solitaire Diamond Ring?
When it comes to engagement rings, the solitaire diamond ring is often considered the epitome of elegance and simplicity. Its timeless design and the way it highlights the diamond or other gemstone at its centre has proved to be popular for decades – even centuries.
But what is a solitaire diamond ring, and why is it so popular? In this blog post, we'll look at answering all your questions.
What is a solitaire ring?
A solitaire ring is a type of ring featuring a single diamond or gemstone – hence the name solitaire.
A solitaire ring is usually a diamond solitaire ring. It features a single diamond, usually set in a four or six-prong setting. The diamond is the focal point, and the setting is designed to maximize its brilliance and sparkle.
The focus is solely on the stone, making it the star of the show. This is what makes solitaire rings a popular choice for engagement rings as they offer a classic, timeless look that never goes out of style.
It also means that aspects like the gemstone's carat, choice of metal for the ring and the ring setting become important when buying a solitaire ring. Each of these will play a part in highlighting the sparkle and shine of the diamond, hopefully making it appear as large and jaw-dropping as possible.
What is a solitaire engagement ring?
A solitaire engagement ring is a diamond solitaire ring intended for engagement. The solitaire engagement ring symbolizes purity, simplicity, and a focus on the love and commitment between two people.
The single diamond represents the unity and unbreakable bond of a relationship. This is why so many people choose it for their proposals.
There's also the fact that a solitaire design allows you to see more of the diamond than in any other setting, as the whole stone is raised above the ring itself.
How to wear a solitaire diamond ring
While there are no hard and fast rules for how to wear a solitaire diamond ring, most people wear it on the ring finger of their left hand, especially if it's an engagement ring.
If you're wearing it with a wedding ring, then usually the wedding ring goes on first to be closer to the heart.
How to keep solitaire ring from spinning
One common issue with solitaire rings is that they can sometimes spin on the finger. To prevent this, make sure the ring is properly sized. We can help you choose the right size ring with our in-depth guide. Or you can order our ring sizer.
Some people also opt for additional design elements like a wider band or small pavѐ diamonds on the sides to add weight and keep your solitaire ring from spinning.
Solitaire ring styles, setting and sizing
Which wedding ring style goes with a solitaire engagement ring?
When it comes to choosing a wedding ring to complement your solitaire engagement ring, the options are endless.
Many people opt for a simple wedding band to let the solitaire diamond remain the focal point. Others choose a band with smaller diamonds to add extra sparkle. You can choose one from our bridal sets that provide a perfect match between wedding ring and engagement ring.
What is a good size for a solitaire engagement ring?
The size of the ring itself should fit your finger snuggly but not be hard to remove. Use a ring sizer to find your perfect ring.
The size of the stone for a solitaire engagement ring varies from person to person and depends on individual preferences and budget. A 0.5-carat diamond is often considered a good starting point for a solitaire ring as it provides enough height to make the diamond stand tall.
What is a solitaire ring setting?
The setting of a solitaire ring is designed to hold the diamond securely while allowing maximum light to enter the stone. The most common settings are the prong setting and the bezel setting, each offering a different aesthetic.
How to clean your solitaire diamond ring
To keep your solitaire diamond ring sparkling, it's essential to clean it regularly. A simple solution of warm water and mild dish soap can do wonders.
Gently scrub the diamond with a soft toothbrush, rinse it under warm water, and pat it dry with a lint-free cloth. Read more about keeping your diamond jewellery clean.
Conclusion
A solitaire diamond ring is more than just a piece of jewellery; it's a symbol of love, commitment, and a lifetime of togetherness. Whether you're wondering what wedding ring goes with a solitaire or how to clean a solitaire diamond ring, we hope this guide has answered all your questions.
Shop our full range of lab grown solitaire diamond rings.